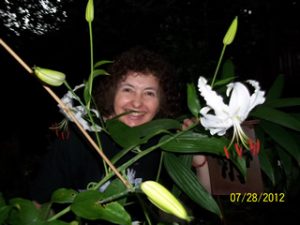 Gigi has always felt that her channeled healing work was guided by angels, hence the name of her center, Angelic Healing Touch.
In 1995, Gigi was introduced to Dr. Usui's Energy Healing System known as Reiki. It was then she became a Reiki I Practitioner. Her first healing subject was her cat, who suffered from crippling arthritis. After a few weeks of Reiki energy treatments, her cat experienced remarkable relief from arthritic pain. Gigi went on to take Reiki II and then studied for her Reiki Mastership in 1996. Later that year she attended a seminar at the William Rand Reiki Center in Michigan to become a registered Karuna Reiki™ teacher.
Gigi Benanti Usui Reiki Master/Teacher experienced Western Style Reiki Master since 1996. Gigi is also Jikiden Reiki Assistant Teacher (Level 3) 2013 Shihankankaku, Studied with Arjeva Frank Petter 2012 & 2013. Gigi is approved by the Jikiden Reiki Kenkyuai (Institute) from Japan to teach Shoden.
Gigi's Reiki Center Workshops Included in each workshop the latest info as she continues to attend her own classes.
She is a member of the International Association of Reiki Professionals. powerful, popular, She is Certified Reiki Therapist with Masonicare Hospice since 2009. She was awarded the D.O.V.E. 2013. (D.O.V.E. stands for Dedicated to Outstanding Volunteer Excellence.)
She has appeared on cable talk shows and has been a regular on WPKN, a radio station in Bridgeport, Connecticut.
Gigi has also written and published several articles about Reiki. She is also included in Reiki Book, Reiki and Christian Healing written by a past Reiki Student and included in 10 year Anniversary issue of Reiki News Magazine.
Click here for Gigi's "Reiki Resume"
~ * ~ * ~
Written by one of Gigi's students:
In everyone's life there are a handful of people who are the "shapers". These individuals have said or done things that altered the way we think or act, and they may continue to be influential if they remain in our lives for awhile. Gigi Benanti is a shaper of my life, because she helped me find my mother.

It had been a year since my mom's passing when I decided to take a Reiki class at Westport Continuing Education. At the end of the class, Gigi went from person to person and gave a mini Reiki session with the students seated in chairs. She asked us to focus on someone or something that was important to us while we waited for her. She came to me near the end, so I had plenty of time to sit there quietly and wait while about 8 others had their turn. I was focusing on my mother.

When Gigi's hands arrived at my shoulders I felt nothing but warmth, and thought to myself that this was silly. Then it happened. A tidal wave of emotion poured through every inch of my body, and I cried uncontrollably. I tried to be as quiet as possible, since there were many others in the room, but this was not an easy task. Gigi didn't flinch.

After a minute of crying, with mascara dripping onto my lap, a voice in my head asked what would be the takeaway from all this. What good is crying if there isn't a resolution of some sort? A voice stepped up and analyzed: If you miss your mom so much and wish she was back in your daily life, then just take her best qualities into yourself. That way she is always here – within you. And what quality should that be? It would have to be LOVE, I answered. But of course.

After that day I felt my mourning was complete, and I had reached a higher plane of spirituality. I decided to reach out and embrace others more, just like my mom did, and listen to what they have to say. That path led me to many new and exciting things, most recently the journey of "In Thirty Days".

Gigi has since taught me Reiki I and II, and I keep coming back to her for private Reiki sessions. Every time she places her hands on me it is a profound experience.

In peace,
Callie
~ * ~ * ~
Angelic Reiki Blessings in Love and Light
Gigi B. Reiki Master/Teacher