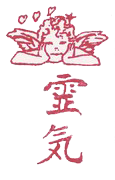 Reiki is a universal art of natural healing affecting the whole person in a positive way including body, emotions, mind and spirit.
In this introduction to Reiki you will learn how Reiki can help you & why it is popular & powerful in helping with pain reduction /stress reduction and healing.
Reiki makes an excellent supplement to other forms of healing work
You will receive a mini-Reiki session
This is a night time class
~ * Find out more at Mini Classes * ~
All levels of Reiki are taught monthly.
Dr. Oz recommends Reiki and it was featured on his TV show. Dr. Oz mentioned that "we have been using it in the Oz family for years."
~ * ~ * ~
Angelic Reiki Blessings in Love and Light
Gigi B. Reiki Master/Teacher