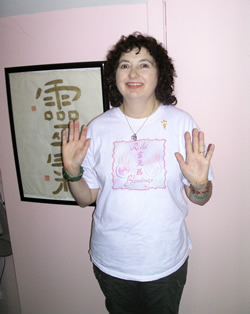 Did you take Reiki years ago? Did you take Reiki a short time ago but want to learn more?
Raise your Reiki vibration with this class, where I share new techniques to reconnect & deepen your Reiki. I have been teaching this class privately for years and am now offering it as a group.
Contact Gigi to find out when and where it will be offered next.
I have a short lineage, therefore the re-attunement will connect you to a powerful lineage line.
Please join us. You must be a Reiki practitioner.
For All Levels of Reiki
$38 Fee for a Group Class
Check with me on fee for a Private Class or Private Re-attunement
Please bring copies of your certificates and your manuals from your original class.
+$8 Material Fee
Update your Manual if yours is different from the one I am using
Includes
A re-attunement at your certified level
Reiki 1: A semi-precious stone to be used with Self healing
Reiki Reiki 2 or Above: Distance healing
~ * Please Contact Gigi to confirm dates and to sign up * ~
~ * ~ * ~
Angelic Reiki Blessings in Love and Light
Gigi B. Reiki Master/Teacher