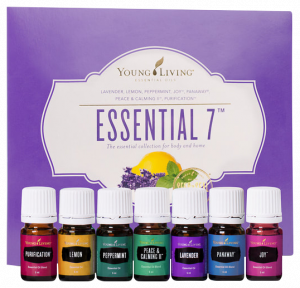 From Young Living Essential Oils
The Essential 7 Kit contains seven 5 ml. bottles of therapeutic-grade oils:
Joy
A blend of ylang ylang, mandarin, bergamot, and pure rose oil. Produces an uplifting magnetic energy that brings joy to the heart. Worn like a perfume, Joy inspires romance and togetherness.
PanAway
Contains helichrysum, which is soothing for localized skin discomfort; clove oil, which contains eugenol, used synthetically by dentists to numb gums; peppermint, which soothes nerves; and birch oil, which has an active principle similar to cortisone.
Code 3390
Also available in 15 ml.
Peace & Calming
A relaxing blend of cistus, Idaho tansy, and patchouli, and is specifically designed for diffusing. Dampens tension and irritability. Especially comforting to children.
Code 3393
Also available in 15 ml.
Peppermint
Studies have shown peppermint's ability to improve concentration and mental accuracy, as well as dramatic effects on weight loss. Soothing for digestion.
Code 3614
Also available in 15 ml.
Lavender
The most versatile of all the essential oils. Calming, relaxing, and balancing, both physically and emotionally.
Code 3575
Also available in 15 ml.
Lemon
One of the oldest traditional antiseptics. Helps deodorize and purify air and water. Improves and protects the skin. Avoid exposure to direct sunlight or UV rays after applying citrus oils.
Code 3578
Also available in 15 ml.
Purification
An antiseptic blend of citronella, lemongrass, and melaleuca. Neutralizes mildew, cigarette smoke, and other odors. Apply to skin to help cleanse insect bites, cuts, and scrapes.
Code 3399
Also available in 15 ml.
$91.78 To Order the Essential 7 Kit
Call Young Living Essential Oils at 1-800-371-3515
Or visit www.youngliving.com
Request Code 3120 (Essential 7 Kit)
Order under ID #259039
~ * ~ * ~
Angelic Reiki Blessings in Love and Light
Gigi B. Reiki Master/Teacher